This article shows how you can make or cancel payments in Solo.
The payment functions of Procountor Solo allow you to pay received purchase invoices easily. In Solo, you can handle and pay both electronic invoices and other types of invoices.
You need the Procountor Key application to confirm payments, which you can download in your smartphone's app store. If you do not have Procountor Key yet, you can find instructions for implementing it here.
When you have created a payment and confirmed it with Procountor Key, the payment will be paid from your account on the specified due date. If you do not have enough money on your account on the due date, the payment remains in error mode and you will be notified of this.
If your Key application does not automatically ask you to open the application and confirm the payments, you can open the application just before you click "Pay selected", which takes you directly to your smartphone screen to confirm (by clicking "Confirm").
Step-by-step instructions for making payments in Procountor Solo
Select "Payments" in the Solo main view.
Click "New payment" on the top of the page.
Select the receipt (for example, a PDF purchase invoice, image of a paper invoice).

Enter the recipient's data.
You can save the recipient in the recipient register (optional).

Fill out the other payment information.

Add the expense type and, if necessary, a note to the accountant.
Click "OK".
Select the payments you want to make on the list and click "Pay selected".

Confirm the payment(s) on your smartphone using the Key application.

The payment is confirmed and transferred for payment on the due date.
Done!


Retrieving payment information with a virtual barcode
You can retrieve the payment information directly to the system by entering the virtual barcode of the invoice in the barcode field.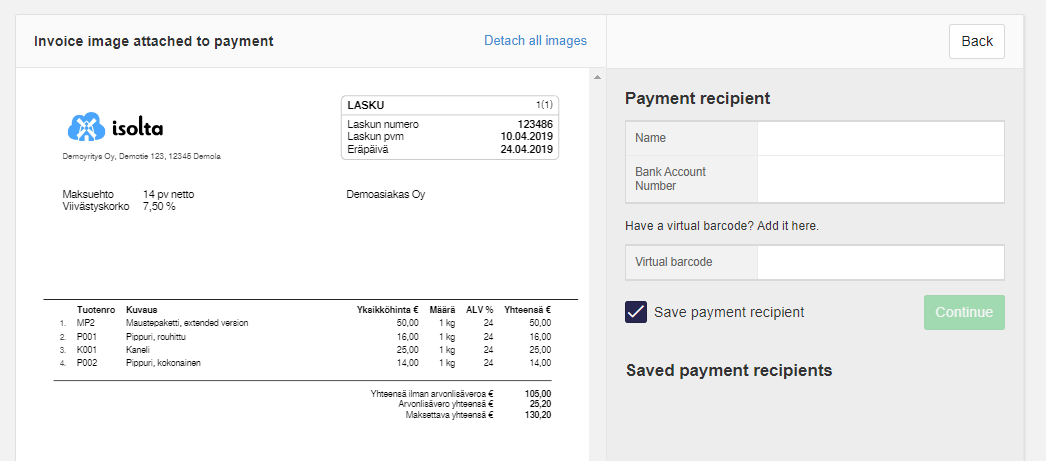 If the payee is not saved in your Solo contacts, the virtual barcode does not import the payee name automatically, but you must enter it manually in the Name field. If the payee is saved in the contacts, the Name field is populated along with the other payment information by the virtual barcode.
Cancelling a payment
You can cancel payments that have not been forwarded to the payment stage yet. Click a payment to open it > select "Tools" on the lower right corner and > "Cancel payment". After this, the status of the payment is open and you can handle it as needed.
Removing a payment
You can remove a payment by opening it and clicking "Tools" > "Remove payment" in the lower right corner.
More information is in the instruction manual article: I sent an invoice with incorrect information. What should I do?