In the e-mail service, as an electronic invoice, in the print service, via mail on paper or as an e-mail attachment (PDF).

Solo offers four ways of sending sales invoices:
Via mail on paper or as an e-mail attachment (PDF)
In the e-mail service
As an e-invoice*
In the print service*
* see the prices for e-invoices and the print service here.
Via mail on paper or as an e-mail attachment (PDF)
In this method, you will download the invoice on your own device as a PDF file, which you can then print out and send to your customer. Alternatively, you can send the PDF invoice as an attachment to an e-mail message.
E-mail service
The e-mail service sends the invoice directly from the program to your customer's e-mail address. Your customer receives an e-mail message with your invoice as an attachment. When you send the invoice from the e-mail service, you can also monitor whether the customer has opened the invoice in the program. You can add a cover note to the e-mail invoice either in the program settings or at the sending stage.
Electronic invoice
When you send the invoice as an e-invoice, it will be directly transmitted from the program to the recipient's purchase invoice system.
Print service
You click a button in the program and your customer receives the invoice on paper via mail. In other words, in this invoicing method, the invoice is printed out and mailed on your behalf. The delivery time of invoices sent from the print service is approximately three (3) weekdays.
Select the invoicing method in the invoice preview: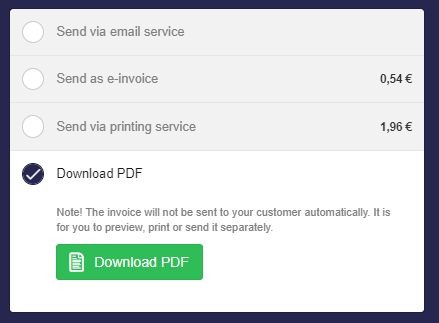 Before sending the invoice, please make sure that it contains all the necessary information. Take a moment to preview the invoice before sending. However, if you notice an error in the invoice after sending, you can still correct it. Read the instructions here.
Note! E-invoicing and the print service are not available in trial mode, which means you must order the program to use them.