Yes. You can turn a sales invoice into a cash receipt in the invoice preview. This article guides you through the details.
Create a new invoice draft and add the products or services as invoice rows.
Click "Preview and send invoice" on the upper left corner
Click "Invoice type" on the upper left corner and select "Cash receipt"
Select the invoicing method you wish to use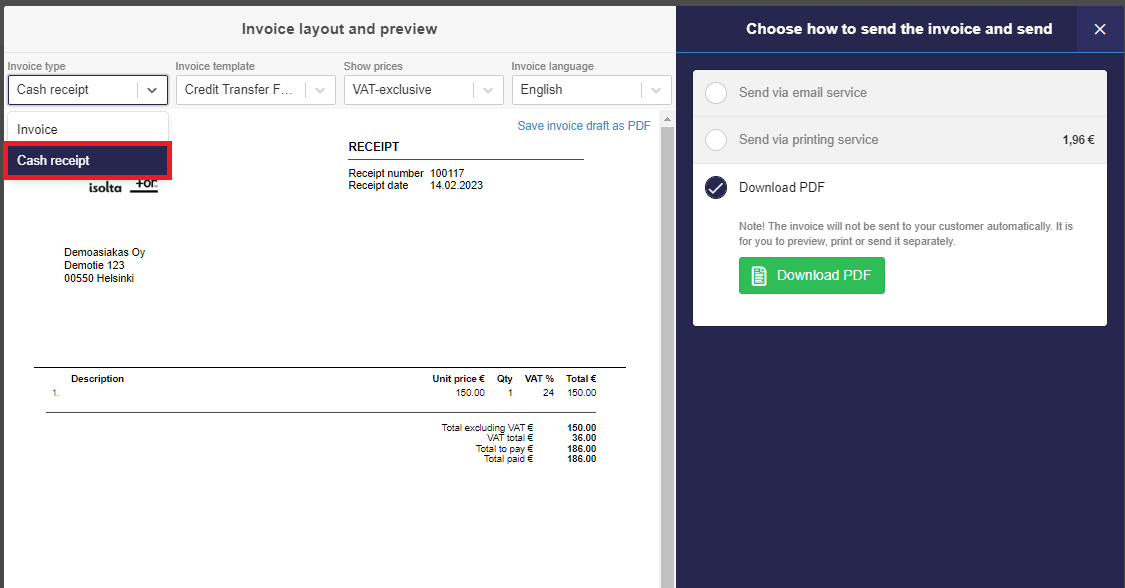 If you want to print out the receipt right away for your customer, select the option "Download PDF". The invoice is downloaded as a PDF file that you can print out yourself. You can also send the receipt via e-mail by selecting "Send via email service".
Cash invoices are not automatically transferred to the accountant with the accounting material. Adding a cash receipt to accounting:
If the cash invoice appears in the account transactions, you can add the receipt to the transaction in question. This can be done with the Add receipt function in Account transactions.
If the sales were paid in cash or with a card terminal, you can add the cash amount to the Other sales section of Accounting material.
You can also send the cash receipt to your accountant through the Documents section of Accounting material, if you have already submitted the accounting material for the month to the accountant earlier.